At our wellness center, we offer not only acupuncture, but other complementary natural therapies to help our patients lead healthier, more balanced lives. Massage therapy is a great way to ease muscle tension and promote relaxation. Through the strategic manual manipulation of soft tissues, massage can help increase blood circulation, bring more nutrients to problem areas, and effectively treat pain problems. In addition to helping with muscle tension and pain problems, massage therapy can also help ease mental stress, reduce anxiety, and promote overall well-being.  It can be a great adjunct to acupuncture treatments, or can be very beneficial on its own.
Our licensed massage therapist, Jamila Webb, is an alumni of The New School for Massage Bodywork & Healing in Chicago, IL.  She believes massage is a powerful aid in promoting the body's healing process. She has training and experience in Thai massage, sports massage, deep tissue work, trigger point therapy, and myofascial release. Jamila is also certified in prenatal massage. She uses a blend of massage techniques in every session to help stretch the muscles and provide therapeutic touch while getting into problem areas as needed.  Her priority is making each patient feel better than they did when they walked in. At the same time, she strives to give the patient a sense of relaxation and comfort. Each treatment is personalized based on the patient's needs and goals.
When Jamila is not doing body work, she's out auditioning for theater and film, creating costumes, and spending time with her senior cat.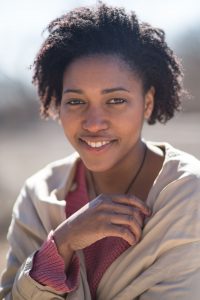 Since therapeutic massage is considered a manual therapy, there is a good chance that your sessions could be covered by your health insurance.  If you would like us to check your insurance to see if massage would be covered, just let us know when you schedule your appointment.  If not using insurance, the out of pocket rate is $80 for an hour or $40 for half an hour.  To schedule an appointment with Jamila, please call our office at 312-890-5553.