At our wellness center, we are always looking for ways to help our patients live healthier and more active lifestyles.  Therefore, we are excited to offer Muscle Activation Techniques™ (MAT) at our clinic starting Saturday November 11, 2017.
MAT is a unique manual therapy aimed at restoring muscle and joint balance.  Unlike most therapeutic methods, Muscle Activation Techniques™ (MAT) looks at muscle tightness as a form of protection in the body. Weak or inhibited muscles can create the need for other muscles to tighten up in order to help stabilize the joints. MAT gets to the root of the pain or injury by addressing muscle weakness rather than muscle tightness. This helps to restore normal body alignment, thereby decreasing pain and reducing the risk of injury.
MAT can give you a new lease on your active lifestyle, whether you are a pro athlete or weekend warrior.  MAT can help you return to the golf course, tennis court, ski slopes, or athletic field with renewed strength and without pain. With MAT, athletes and active people of all ages can perform at a higher level without injury, allowing them to "stay in the game".
What MAT Treats
Muscle Activation technique is an excellent adjunct to any exercise regimen. A MAT specialist uses a battery of assessment tools that can identify weaknesses that lead to injuries while exercising or playing a sport. In addition, Muscle Activation Technique (MAT) can be very effective in giving you relief if you are already suffering from the following:
– back pain
– knee pain
– patellofemoral syndrome
– neck stiffness
– shoulder pain
– rotator cuff pain
– plantar fasciitis
– flat feet
– tight hamstring
– and more …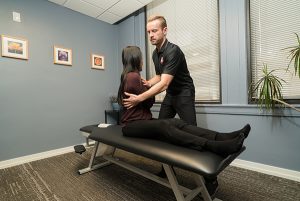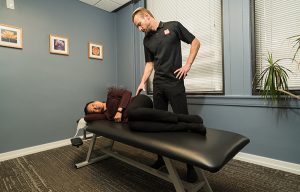 How MAT Works
Muscle Activation Techniques is process where range of motion (ROM) is tested for mechanical asymmetry. Once asymmetrical ROM is identified, EVERY muscle that can mechanically contribute to that ROM is individually tested. Any muscles that appear weak are then treated using targeted manual palpations. When all muscles are strong, the ROM should increase. This is what is meant by a balanced joint. It is at this point that pain and stiffness decrease. Once the nervous system recognizes the joint is stable, tight and stiff muscles loosen up, since the protection they were providing is no longer needed.  Reduction in pain and stiffness and increases in ROM are often felt immediately after treatment.
Who Uses MAT
In addition to the countless amateur athletes and weekend warriors who use MAT to help them perform at the top of their game, some well known star athletes that use MAT include:
Payton Manning, former NFL quarterback
https://www.si.com/vault/2012/11/05/106252291/stretching-the-field
Matt Forte, former NFL running back
http://articles.chicagotribune.com/2011-11-19/sports/ct-spt-1120-essentials-bears-pompei-chicago–20111120_1_bommarito-performance-systems-massage-therapist-matt-forte
Our MAT Specialist
Ralph Klisiewicz is a certified personal trainer and has over 15 years of experience working with clients of all ages and fitness levels.  He is certified through the National Academy of Sports and Medicine as a personal trainer and has completed the MAT Specialist Training Program.  He is a certified MAT Specialist and has 10 years of experience in treating muscle and joint imbalances using this innovative therapy.   He is passionate about fitness and helping people live a healthy pain free lifestyle.
Interested in Trying MAT?
We will be offering MAT services at our office at 223 W Jackson Suite 860 with Ralph Klisiewicz starting Saturday November 11, 2017.   Each session is approximately 45 minutes.
Because MAT is a therapeutic manual therapy that treats pain and muscular imbalance, it is possible that your insurance could cover your treatments.  We would be happy to check on your insurance benefits to see if your MAT treatments can be covered by your insurance.
For those not using insurance, the out of pocket rate for MAT is $75 per session.  However, through the month of November, we are offering this unique and effective form of therapy for the promotional rate of $60 per session.
Please call our office at 312-860-5553 if you are interested in setting up an appointment for MAT.  If you have any questions about MAT, you can email our MAT Specialist, Ralph Klisiewicz, at ralph.klisiewicz@gmail.com.
To find out more about MAT, please check out this brief video by Ralph Klisiewicz https://www.youtube.com/watch?v=2m63_LiD-Vo or visit http://muscleactivation.com/.